Vendor Support Change
| | |
| --- | --- |
| Document Date and version | 2021.02.02 |
| Tested with ONT HALNy HL-4GMV, HL-1GE, HL-4G, HL-4GQV/S | Supported on Version: V2.0.16/V3.0.11 or above |
| Revision | 1 |
Why you need to change vendor support:
When you want to connect a new ONT to your OLT which has 3-rd party ONT block by GPON Serial Number you may do it with instruction below
How to change vendor support:
Enter ONT WWW interface 192.168.33.1:80

Log in to the ONT (admin account)
3.Enter url 192.168.33.1/cgi-bin/vendor-support.asp
4. Set OLT Vendor you need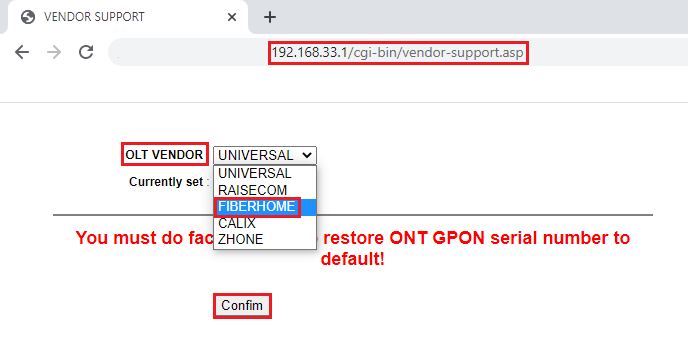 After confirmation ONT will reboot and start-up with new GPON Serial Numer
Keep OLT Vendor
You may set KEEP OLT VENDOR flag to prevent ONT restore its default GPON Serial Number.
It means if client does factory defaults via WWW (user account) or by pressing physical button – ONT will be restore to factory and GPON Serial Number will not be restored.
---